Monthly Archive for August, 2018

? That's it, you did look for it… El regalo is finally back ! ?
Aurore Chadoin and Sebastian Motter, will perform for the first time in Belgium ! Lot of love, from Paris, expected. ?
Workshop: from 7.30pm – more info soon (https://www.facebook.com/auroresebastian)
Milonga: from 9pm to 4am.
Hosted by Dj: Claire Deville
Entrance: 6€ for under 26y/unemployed/before 10pm.
9€ full price.
? El Regalo Milonga, once a month, it's a warm dance floor worn by two delicious Djs. All knotted by a show, because after all… you are the gift
Resident djs: Claire Deville (aka Drama Queen and Toufik Cherifi (aka International Choufik)

Joachim Caffonnette – piano
Alex Gilson – contrebasse / double bass
Jean-baptiste Pinet – batterie / drums
——————
20:00 – Ouverture des portes / Doors
20:30 – Début du concert / Start of the concert
22:30 – Fin / End
——————
€8/10/12 (étudiants, musiciens / prévente / sur place)
€20 (concert + CD envoyé dès la fin du pressage)
——————-
FR (English below)
Le trio de Joachim Caffonnette enregistrera la deuxième partie de son album en direct et en public. Un peu plus qu'un simple concert donc, et l'occasion d'être les premières oreilles privilégiées à entendre des pièces qui seront ensuite gravées pour partir dans les méandres de la distribution et de l'internet.
En novembre 2017, au magnifique Jet Studio bruxellois, le trio a enregistré la première partie d'un album à paraître au printemps 2019. Mais comme le jazz n'est jamais aussi vivant qu'en concert, les trois comparses ont décidé de compléter leur ouvrage de quelques morceaux pris sur le vif dans un moment de symbiose avec le public.
Deux magnifiques options s'offrent à vous :
a) Concert uniquement : prévente 10/8€ (étudiants et musiciens) – sur place 12€
b) Concert + un exemplaire de l'album en avant-première dès qu'il sortira des presses : 20€ (ou plus selon votre envie de soutenir le projet et la coûteuse production d'un disque).
Pour réserver une/des place(s), merci de virer le montant correspondant à l'option a) ou b) sur le compte BE77001359080942 (BIC : GEBABEBB) avec en communication "Joachim Caffonnette Trio – Cellule 133a".
——————
EN
The Joachim Caffonnette Trio will record the second part of its upcoming album live in front of a small audience. It will be a little bit more than a simple concert, and of course an opportunity for you (lucky bastards!) to be the first to hear pieces that will later be burned onto a CD and float around the ocean of distribution and the world WILD web !
In November 2017, the trio entered the amazing Jet Studio in Brussels to record the first part of an album that will be released in spring 2019. But as is always the case with jazz music, the magic happens when it's played live. The 3 jazz cats decided to add to their album a few tracks recorded in the intimacy of a club, close to the audience.
Two absolutely great options are waiting for you to choose from:
a) Concert only : presale 10/8€ (students and musicians) – on the spot 12€
b) Concert + a copy of the album right after it comes out of the factory : 20€ (or more if you care about supporting the band and the production costs… spontaneous generosity allowed !)
To book your seat(s), please wire the amount corresponding to the chosen option a) or b) on the bank account bearing the number BE77001359080942 (BIC : GEBABEBB) and mention "Joachim Caffonnette Trio – Cellule 133a".
More info sur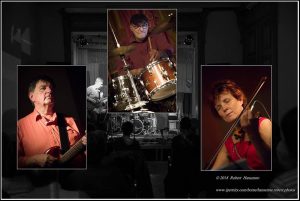 https://www.facebook.com/kartinkatrio/